Posts Tagged 'Child-Centered Divorce'
By Rosalind Sedacca, CCT
Parenting plans are becoming more and more recognized as the way for both parents to coordinate their parenting, their lives and their relationship with their children after divorce.
In its simplest form a parenting plan puts in writing the agreed upon schedule both parents have created regarding most all parenting arrangements. It outlines the days, times and other details of when, where and how each parent will be with the children along with other agreements both parents will follow in the months and years to come.
The purpose of the plans is to determine strategies that are in the children's best interest to create smooth, easy and positive transitions. These plans encourage cooperative co-parenting so that the children feel secure, loved, wanted and nurtured by both of their parents.
Plans can vary in depth and scope. Often they include guidelines for routine residential arrangements as well as special occasions, including holidays, birthday and vacation time. Emergency information, decision-making guidelines, processes for sharing information, relocation procedures and means for resolving disputes can also be spelled out to minimize future conflict and provide consistency for the children.
While parenting plans make excellent tools for the family, keep them flexible so that their purpose doesn't get lost in a maze of too rigid rules. Allow for some fluctuation and reassessments as the family ages and also experiences the day-to-day realities of their living arrangements.
No plan can compensate for irresponsible or negligent parenting. Make sure the time you spend with your children is rewarding for them and reinforces the caring, supportive messages you want your children to remember. Don't try to substitute gifts or excursions for the quality parenting time they value and crave.
Parenting after divorce is all about reassurance, safety and security. Allow your children an adjustment period at the beginning and end of visits as they transition from one home to the other. This is not easy to do for adults. Think of what it must be like for children – regardless of their age.
Be sensitive about how and when to introduce your children to your new adult friends, especially dating partners. Children are very possessive of both parents. They need to feel very secure in your love for them before they can accept another parent figure in their lives. Take your time in this regard. Think before you take steps you will regret.
Whenever possible create a sense of consistency between both homes. Children fare best when Mom and Dad agree on basic parenting issues and don't contradict one another from home to home. If you do have differing rules, talk to your children about the differences, explain your own parenting style, and don't put down their other parent – even if you don't agree with their values. Your children will learn to adapt to differences in their parents if you don't make a big deal about those issues.
Never forget that you will be a parent to your children for the rest of your life – and so will their other parent. Keep that perspective and focus on ways to collaborate and join forces whenever possible. Your children will be the winners in the long term.
*     *     *
Rosalind Sedacca, CCT, is a Divorce & Parenting Coach, relationship seminar facilitator and author of How Do I Tell the Kids about the Divorce? A Create-a-Storybook Guide to Preparing Your Children — with Love! For free articles, an ezine and other valuable resources about Child-Centered Divorce visit http://www.childcentereddivorce.com. To order her acclaimed ebook, visit http://www.howdoitellthekids.com.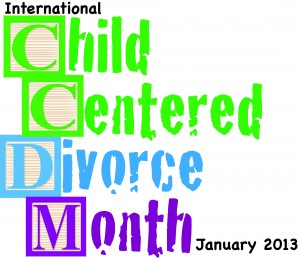 If you're a parent coping with divorce-related issues, professionals around the world are here to provide free gifts and services to you all through January. In recognition of International Child-Centered Divorce Month, we've enrolled child-centered divorce mediators, divorce coaches, therapists, financial planners and other professionals on four continents to join this educational campaign. Their goal is to share insights, advice, tips and tools to help you create the most positive outcome for your family as you transition through divorce and beyond.
Here's just a sampling of the many gifts awaiting you when you visit our special website: www.divorcedparentsupport.com/ebook.
At the website just enter your email address to download free ebooks, coaching services, online parenting classes, audio seminars and much more!  Choose as many gifts as you like. The links are at www.divorcedparentsupport.com/ebook.
Rosalind Sedacca, CCT
Divorce & Parenting Coach and Founder Child-Centered Divorce Network
Successful Divorce & Co-Parenting Expert Interview Series — $100 value
These four MP3 audio coaching programs include interviews with 12 respected Child-Centered Divorce experts – including attorneys, mediators, therapists, parenting coordinator and others – providing valuable tools and guidance in their areas of specialization.
Dr. Dee Adio-Moses
Live Again after Divorce — $17 value
An ebook that brings clarity and opens the doorway to healing the trauma of divorce.
Naomi Douglas, Founder of Divorce Coach Australia
30-minute Divorce Coaching Consultation by phone
Deborah Hecker, Ph.D.
Complimentary Consultation & 30-minute Follow-up Session — $200 value
Package offers free phone/Skype consultation and follow-up session with national divorce expert, Deborah Hecker, Ph.D., who will offer insights and recommendations to assist you in resolving personal, parental or other divorce-related concerns.
Deborah Moskovitch, Divorce Coach
20-minute Free Coaching Session — $60 value
The Smart Divorce one-on-one coaching guides people to have a positive outcome from their divorce – for a happier, healthier future.
Jennifer Safian, Divorce and Family Mediator
ONE hour of FREE Divorce Mediation
Start your divorce process with a 2-hr session in January 2013 and get the 1st hr FREE!
Michelle Muncy, Director of Education: Online Parenting Programs
Free: any one online parenting program! $39 value
Patrick McMillan, Founder of TeachingHappiness.com
Discover Your Happiness – A Guide Just for Kids ebook is filled with lessons and activities that inspire positive thoughts and feelings teaching kids where their true lasting happiness resides, and how to develop habits to access it anytime.
Suzy Miller, Creator of Divorce in a Box (The Alternative Divorce Guide)
Divorce in a Box – the alternative divorce guide – free download
Stay out of court, protect the children and save money with Divorce in a Box booklets, resource DVD and $100?s of introductory sessions with top experts. (UK version also available)
Mimi Lupin, M.A. L.P.C., L.S.S.P.
Swimming with the Dolphins: MP3 audio
Story of an imaginary trip to visit the dolphins who talk to children and help them understand their parents' divorce.
Dawn Sinnott, Divorce Coach & Host of radio show "Chapter 2: Real Divorce Stories, Real Divorce Support"
My radio show interview with Donna Martini, author of The Ten Commandments of Divorce – How to Leave Your Marriage Without Breaking Up Your Family.  Donna discusses how to get past the anger of your divorce and focus on what's truly best for your children as well as how important it is to balance the resources between ex-spouses so that children feel at peace with the divorce.
Remember, all these free gifts … and many more … are awaiting you at the special ICCD Month website: www.divorcedparentsupport.com/ebook. Just enter your email address, click the confirmation email link, and you'll be sent directly to the FREE GIFTS and FREE EVENTS pages. Visit often, all through January.
We welcome your feedback.
Best  New Year Wishes to all!
Rosalind Sedacca, CCT
The Voice of Child-Centered Divorce
By Rosalind Sedacca, CCT
In recognition of International Child-Centered Divorce Month divorce experts around the world will be providing free ebooks, coaching services, teleseminars and other gifts to divorced parents throughout January. This is the eighth commemoration launched through the Child-Centered Divorce Network. The featured sponsor is Our Family Wizard, a website designed to help manage shared parenting online.
ICCD Month is dedicated to alerting parents about the effects of divorce on children – and how to prevent emotional and psychological damage to children during and after a divorce.
Divorce attorneys, mediators, therapists, financial planners, coaches and other professionals on four continents will be participating. Their purpose is to promote peaceful divorce, cooperative co-parenting, and educating parents about how to prevent negative consequences for children affected by separation or divorce.
More divorces are initiated in January, following the holiday season, than in any other month. The CCD Network has created a special website where parents can access free ebooks, coaching services, videos, audio programs and other valuable gifts by simply clicking links. The website will be available throughout January at www.divorcedparentsupport.com/ebook.
In addition, parents can find listings of free workshops, teleseminars, webinars and other special events being held during January on the Events Calendar at the same website: www.divorceparentsupport.com/ebook.
I am thrilled that divorce professionals around the world will be joining us to bring a heightened awareness to parents about their responsibility to their children's well-being before, during and after divorce. Our purpose is education and mistake prevention. We want to encourage mediation instead of damaging litigation, respectful co-parenting, effective communication skills, and guide parents away from common mistakes that scar children, even into their teens.
We can never overemphasize how parental decisions about divorce can affect and scar children – for years – and often for a lifetime. Our resounding message to divorcing parents is: Regardless of your own emotional state, it is essential to put your children's needs first when making decisions related to divorce or separation! Often that means letting go of anger and resentment in favor of co-operative co-parenting so your children aren't robbed of their childhood.
For more information about International Child-Centered Divorce Month plus access to all the free gifts and special events taking place in January visit: www.divorcedparentsupport.com/ebook.
You're getting divorced and you're angry, resentful, hurt, vindictive or any combination of other painful emotions. You want to lash out, to get back at your spouse or boost your own sense of esteem. Hiring the most aggressive litigious divorce lawyer you can find seems like your smartest choice. Your ex is in for a fight!
If you're a parent who is thinking along those lines, you're making a choice you may long regret.
If you choose a lawyer who directs you straight into a vicious court battle, the costs to you will be insurmountable – not only in financial outlay, but in emotional turmoil as well. Think long and hard before you move your divorce battle into the legal system. It is likely to take its toll on every member of your family – including your children – in the most destructive and gut-wrenching ways. It happens all the time. But it need not happen to you.
When you give your divorce outcome over to the courts, you are paving the way to unimaginable stress and frustration compounded by a sense of powerlessness that is hard to comprehend until you are in its grips. As you stand by and watch attorneys and judges make decisions about your life and your future you can't help but feel violated and helpless. The taste of revenge that you were after can easily turn into anxiety and shock when issues get twisted and victors become victims right before your eyes. The consequences can play out for years, and often decades, to come.
Sadly, your children are not protected from the emotional and psychological repercussions. When custody decisions are made by those who are focused more on financial issues than family issues, children's needs often get pushed aside in favor of other objectives. Relationships, balance and good will are not prime objectives in the battle of divorce, and the scars on your children's psyches are often overlooked in the legal blood-bath that ensues.
There are other ways. Better ways. And more ways than ever before to create a divorce that respects the rights of every one in the family.
Before engaging that "killer" attorney, talk to a Collaborative Divorce attorney who specializes in creating peaceful outcomes without going to court. Collaborative Lawyers are trained to use their own special skills along with the aid of financial planners, therapists, mediators and other resources to bring both sides into conversation about win-win outcomes. Children's needs get high consideration.
Certified Mediators offer another opportunity to create a fair settlement without litigation at a considerable cost savings. Many mediators are former divorce attorneys who have battled it out in court and know there are saner solutions for all concerned. They care about creating peaceful resolutions.
Learn from the lessons and mistakes of others. If you want to save yourself considerable expense – both emotionally and financially – and if you want your children to thank you when they are grown up for creating a civilized, sensible, harmonious divorce – make the right decisions today. Stay out of court. Stay out of the hands of killer attorneys. Stay in the good graces of your children. Create a Child-Centered Divorce – and reap the rewards for years to come!
*   *   *
Rosalind Sedacca, CCT is the founder of the Child-Centered Divorce Network and author of the new ebook, How Do I Tell the Kids … about the Divorce? A Create-a-Storybook Guide to Preparing Your Children — with Love! For free articles on child-centered divorce or to subscribe to her free ezine, go to: www.childcentereddivorce.com.
 © Rosalind Sedacca   All rights reserved.