PARENTING BEYOND
DIVORCE
Making Life Better For
You & Your Children
By Rosalind Sedacca, CCT
Divorce & Parenting Mentor
Founder of the Child-Centered Divorce Network
Based on more than 15 years
of in-the-trenches co-parent
mentoring and divorce coaching!
This quick-read, easy to digest …
yet profoundly insightful program
gives you the best success strategies
for co-parenting during and long after divorce!
Parenting Beyond Divorce prepares you for tackling sticky situations … diffusing tensions … making better long-term decisions … and giving your children the parenting they need long after divorce.
This is a MUST-HAVE course that will serve and support you for years to come!
Discover how to handle …
Co-parent anger directed at you

Your anger/frustration at your co-parent

Children's anger and resentment about the divorce

Children acting out and taking sides

Challenging life situations following divorce

Tough questions and decisions

Other obstacles that create conflict and frustration
"Rosalind's PARENTING BEYOND DIVORCE program was transformational for me in the way I began to better understand the healthiest ways to communicate with my ex and my children during my divorce.  She empowered me to embrace co-parenting with the most important question any divorced parent can ever ask: 'What is in the best interest of my children right here now?'  Her program gave me a multitude of wise and practical skills to use with my children and my ex that have resulted in better relationships all around, and most importantly – happier children!" 
     -Gretchen TenBrook, Divorce Coach 
"Rosalind consolidated the essence of co-parenting success strategies into a very practical and simple format that I refer to before reacting to difficult situations.  Her advice and tips are helping me make decisions or responses that best protect my kids while adding to my own sense of confidence and peace of mind."

                                                                           
     -Tom S, Divorced Father
This program is for you if you're tired of …
Fighting over the kids
Feeling overwhelmed, confused or unsure re parenting decisions
Looking for more successful options for handling disagreements
Repeated battles about the same issues
Living with tension, fear, anxiety or anger toward your ex 
Special new program launch price …
for immediate download … just $57
I've launched the program at this very low price so it's accessible to everyone. So if you want to avoid co-parenting disasters, make better parenting decisions and handle challenges most effectively for your children – this is the course for you.
Buy now & get your free bonus ebook: a $9.97 value!
Embracing A Child-Centered Divorce: Because You Love Your Children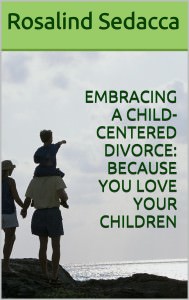 Sincere best wishes to you!
Rosalind Sedacca, CDC
The Voice of Child-Centered Divorce
PS: Remember, the greatest gift you can give to your children is a happy childhood. The tips you'll pick up in this easy-to-read course will help you handle inevitable co-parenting challenges with more confidence, skill and wisdom. This is one small investment you'll never regret. I promise you!