Telling Children about Divorce?
Unique ebook doesn't just tell you what to say. It says it for you!
How Do I Tell the Kids about the Divorce?
A Create-a-Storybook Guide to Preparing Your Children – with Love!
By Rosalind Sedacca, CDC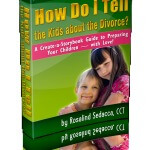 Divorce may be tough on parents, but it's even tougher on children. One of the most difficult conversations any parent will ever have is telling their children about an upcoming separation or divorce. Rosalind Sedacca, CDC, had that conversation more than a decade ago and used it as the basis for her internationally acclaimed ebook, How Do I Tell the Kids about the Divorce? A Create-a-Storybook™ Guide to Preparing Your Children – with Love!
Unlike other books on children and divorce, Rosalind's innovative approach provides customizable templates that don't just tell you what to say — they say it for you!
Learn more about this internationally-acclaimed must-read book for any parents facing divorce.
****************************************************
This quick, easy to digest guidebook/training program gives you the best strategies for co-parenting success during and long after divorce! Read it through once — then refer back when you need help, advice, support and proven tips for handling co-parenting challenges and frustrations more effectively. Includes a free Bonus ebook as well.
Learn more about this internationally-acclaimed must-read book for any parents facing divorce.
*****************************************************
EMBRACING A CHILD-CENTERED DIVORCE: BECAUSE YOU LOVE YOUR CHILDREN!
By Rosalind Sedacca, CDC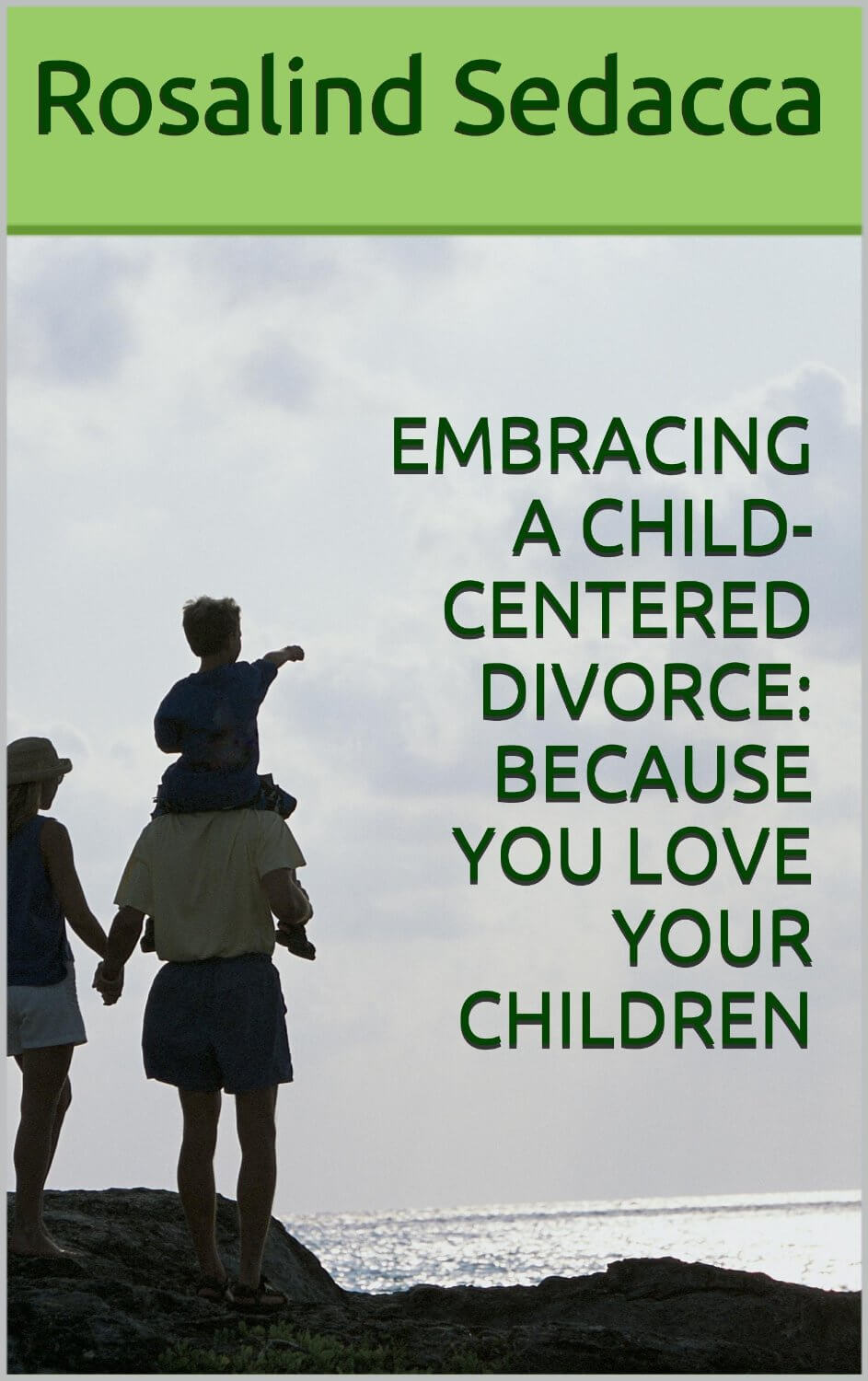 As a Divorce & Parenting Coach and Founder of the Child-Centered Divorce Network, Rosalind Sedacca, CDC shares valuable advice, tips and insights for divorced parents on helping children cope with divorce and transition after divorce with the best possible outcome. She helps parents understand the emotional effects of divorce on children and how to protect their children from hurt, anxiety and long-term damaging consequences. Learn how to co-parent more effectively and become aware of your child's needs at differing ages and stages during and after divorce.
Downloadable ebook from Amazon.
****************************************************
Ready to start Dating After Divorce?
Check out Rosalind Sedacca's guidebook for women!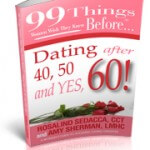 Are you ready to start dating again, but afraid to take the first step?
Are you tired of dating "frogs" and getting skeptical about finding your "prince"?
Need help moving out of your comfort zone into dating experiences that are fruitful, fulfilling and fun?
99 Things Women Wish They Knew
Before Dating After 40, 50 and Yes, 60!
will empower you to find that meaningful relationship you deserve!
By Rosalind Sedacca, CDC & Amy Sherman, LMHC
Fed up with dating disasters and playing games? Tired of repeating old patterns that attract the same bores, brutes or boys? Millions of women over 40 are looking for more – and they want it now!
99 Things Women Wish They Knew Before Dating After 40, 50 & Yes, 60! is fast and easy reading. But don't be fooled by its size! Authors Sherman and Sedacca understand the needs, challenges and insecurities mature women face in finding meaningful relationships. From sensible to sexual, they've honed their messages to deliver insightful awareness and powerful techniques — that really work!
Within these pages you'll find insights, advice and tips you need to know about before dating or entering into a romantic relationship. The 99 keys provided will empower you to avoid the most common pitfalls and mistakes of dating after 40 — and guide you toward developing the healthy, mutually satisfying relationships you desire and deserve. Here's an informative, fun to read, candid and dependable resource that delivers realistic guidance you'll relate to and welcome.
This step-by-step guide will have you dating smarter, feeling more empowered and having more fun. Why keep kissing frogs — when "99 Things Women Wish They Knew Before Dating After 40, 50 & Yes, 60!" will show you the way to confidently attract the "prince" you've always been looking for?
99 Things Women Wish They Knew Before Dating After 40, 50 & Yes, 60! provides laser focus on the issues and answers you most want to explore:
• You're Looking for Him. Is He Looking for You?
• Releasing Relationship Baggage
• Preparation–Looking & Feeling Your Best
• Entering the "Meet" Market
• Will You Rate on Your Next Date?
• Relationship Traps–Pitfalls that Snag
• Communicate—to Attract the Right Mate
• Knowing the Warning Signs of Abuse
• Balancing Intimacy and Sexuality
• Empowerment–Essential for Relationship Success
• Signs You've Found a "Keeper"
Dating Experts agree – this small book packs a big punch!
"99 Things is filled with wisdom you never got growing up and you can't get from your friends. It's not just a good guide to dating, it's a smart guide to living."
Judith Sherven, PhD and Jim Sniechowski, PhD, best-selling authors of The Smart Couple's Guide to the Wedding of Your Dreams
"This small book packs a really big punch, and provides solid, grounded answers to the big questions mature women often find themselves asking."
Jackie Black, Ph.D. , author of Meeting Your Match: Cracking the Code to Successful Relationships
"Dating in mid-life or later is a real challenge for so many people. Anyone with concerns will find so much down-to-earth advice between these pages. This would also make a great gift for someone who you know is struggling with getting back in the scary dating game. Congratulations to Roz and Amy for sorting through it all."
Phyllis May, author,"Refired not Retired…reignite your zest for life"
"As both a psychotherapist and a woman from the 'sixties set' who just returned to the dating scene I was amazed at how 'on target' this book is!! Not only were the messages those I would deliver as a therapist, but reading them helped guide me through this new venture in my own life…a truly helpful read!"
Mimi Scott, PhD, MSW, Author, Tales of Children of Divorce
"This book is witty, wise and absolutely wonderful! Starting over at any age can be hard, but when you've been out of the loop for a while it's sometimes down- right terrifying. These ladies have broken it down into organized and easy to read snippets that cover the gambit from sensible to sexual and everything in between. I will definitely recommend it to all of my divorcing women clients!"
Lisa C. Decker, Certified Divorce Financial Analyst, www.DivorceMoneyMatters.com
"This is NOT another "quick fix" to dating but a foundation of how dating paradigms shift with age. Rosalind & Amy deliver a step-by-step guide that is easy to follow and can be implemented instantly! What I admire most is their ability to portray the advantages that age & experience can bring to the table! The authors show you that creating long term, lasting relationships at this age with an emotionally available and stable partner is not only in your cards but attainable step-by-step!"
Ben Winkler, Relationship Coach for Singles, www.BenWinkler.com
*******************************************************************
True Love At Last for Women Over 40: Answers You Need for the Relationship You Want!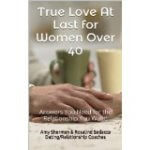 Relationship experts Rosalind Sedacca, CDC and Amy Sherman, LMHC provide no-nonsense, realistic and often overlooked insights into creating your ideal love relationship. Co-authors of 99 Things Women Wish They Knew Before Dating After 40, 50 & Yes, 60, the Dating & Relationship Coaches answer frequently asked questions with candor and compassion, while guiding women over 40 to new levels of confidence and adventure. Discover self-empowering tips for transforming your love-life without sacrificing your own spirit or your SELF!