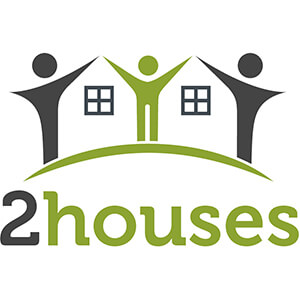 By Rosalind Sedacca, CDC
When divorce or separation impacts a family, everyone in that family is affected. The consequences can be overwhelming on a physical, emotional and psychological level never experienced before. In the aftermath of divorce, the parents and children are facing a new reality that requires adjustments, acceptance, cooperation and support.
Having experienced his own divorce with children, Gill Ruidant understood these challenges on a deeply personal basis. Using his background in mobile technology, Gill created a unique app designed to help separated families communicate and become organized for the wellbeing of their children. In 2012 2houses.com was launched.
Today more than 170,000 families in 170 countries use 2houses to reduce conflict and create a more neutral environment between co-parents. It's a tool with a simple, intuitive interface making it very easy to access and use.
Thoughtful features for smoother post-divorce parenting
As a divorced parent myself, what I found especially relevant is:
Unlike most other online scheduling tools, 2houses is a fully independent mobile app that works separately from the website. This mobility fits the active lifestyle of busy parents on the go, who need to make changes as they happen.
With 2houses parents have a one-stop shop to manage everything related to the children. In additional to scheduling their kids' visits, they can also post change requests, feedback and comments. School and medical documents, shared expense reports, financial data, travel plans and other relevant information all have its place on the app. So does a calendar that is synchoronized with Google and other calendar options.
The private, secure message tool replaces using Facebook or What's App for timely communication.
International in scope, 2houses will soon be available in French, Dutch, Italian, German, Spanish as well as English. The tool also works in all currencies.
Users can invite third parties to access their calendars as well. This may include grandparents, nannies and trusted friends.
The app features a place for shared photo albums.
The Journal provides access to posting articles, videos, clothing purchases and other items of shared interest.
2houses also has a blog and relevant resources to help parents get useful advice on common issues they face.
Parents can also invite a mediator to access the app in read-only mode when outside guidance is beneficial. When there is no parental communication after divorce, court-ordered attorneys can get access to assure accuracy and civility.
Low cost and high success rate
2houses is less expensive than other widely used online scheduling tools. The price is just $149 for the entire family (both parents and all children) for a year. Children can participate within a limited environment giving them access to photos and the calendar, for example.
Because of its broad spectrum of features, 2Houses is a smart option for parents with sole or shared custody. Divorced co-parents who get along will use it to keep track of daily activity to assure accuracy and peaceful transitions between homes. It's also designed as a wise choice for parents with little or no communication to assure their children are being attended to with minimal conflict and maximum effectiveness.
Gill says he is always receptive to new client suggestions as he continually adds timely updates.
To learn more about 2houses, visit them at www.2houses.com.
***     ***     ***
Rosalind Sedacca, CDC is the founder of the Child-Centered Divorce Network, a Divorce & Co-Parenting Coach and author of numerous books, e-courses and programs on divorcing with children and co-parenting successfully. For instant download of her FREE EBOOK on Doing Co-Parenting Right: Success Strategies For Avoiding Painful Mistakes! go to: childcentereddivorce.com/book
Please share this article on social media!