Archive for the 'parenting after divorce' Category
Parenting is a continual learning process, which is compounded when you are going through a divorce.  Not only does it require an understanding of the child's needs and the skills to meet those needs, but it requires additional special attention. Talking to your children about the divorce could be one of the most difficult experiences of parenting, because you want, of course, your wisdom to be heard and then your child to apply it.  From my work with divorced parents and their children, I have gained much insight into what we, as adults, need to do to make the relationship work effectively on both sides.
The major complaint that parents have about their children is that they just don't listen.  Not surprisingly, children have the same complaint.  "My parents don't hear me.  They would rather lecture me."  If we want our children to feel comfortable talking with us during this trying time, we must adhere to several key principles that can enhance our relationship with them, and ultimately, help them to become well-adjusted and emotionally healthy.
The following are 10 important components to raising happy, healthy, open children – even after they experience their parents' divorce:
1.   Be willing to listen first, then offer opinions — rather than turning the dialogue into a lecture.  You do not want your children to feel like you're not working on their same wavelength.  This could lead to misunderstandings and fights.  However, you are not their peer, so it is always necessary to maintain the parental role.
2.   Improve your understanding by using good body language. Be sure that your facial expressions and words are in alignment, because body language reveals an overall emotional tone.
3.   Repeat back what the child says. "I hear you say that you're afraid of the changes that are happening in our family.  Is that right?"  This is called reflective listening.  "I understand what you're saying.  However, I want to assure you that…"
4.   Encourage a free expression of feelings, thoughts and ideas without shutting down the child.  This keeps the conversation open and maintains your awareness of the child's perspective.
5.   Allow "kid contact time" that engages the child in a positive interactive xperience with you. In other words, save time in your day for quality time with your eight year old or shopping with your twelve year old. Make a point to praise something every day and be generous with your love, hugs and compliments. This encourages a sense of trust and closeness, essential components for a child whose parents are no longer living together.
6.   Be empathetic.  By putting yourself in your child's shoes, you begin to remember what it was like to be that age — what you were afraid of,  what your most important concerns were, what you needed from your parents.  Remember that what your child is experiencing is very real.
7.   Set down some rules and guidelines and be consistent with following through.  However, if there are too many restrictions, children have more opportunity to fail.  On the other hand, too few rules, too much permissiveness, offers no guidance and no structure.  Studies show that children prefer to know what they can and cannot do.  House rules help children to understand expectations and to develop self-control. Invite your children to participate in developing those rules, because their input is important for their self-esteem and confidence.
8.   Practice being a good role model.  Therefore, express the traits you want your children to copy, such as respect, fairness, friendliness, honesty, kindness and tolerance of others.  How you handle your anger, for instance, is the behavior you pass on to your children.  If you don't like what you see, take a look at yourself. 
9.   Be a strong support system for your children.  As a support, you are available when they need to talk.  You are there to help and encourage them.  Seize every available moment to make a connection.  Help your children identify other supportive people in their lives with whom they can also talk.
10. Make flexibility a priority.  Try not to base your expectations on "shoulds."  Every child is different and his/her response to the divorce will be unique.  Some children will react with anger, sadness, or guilt.  Others will react with complete silence.  Adjust your handling of each child according to the personality and needs of the individual.
Understand that stress comes with the enormous responsibility of parenting your child before, during and after the divorce.  Be aware of your own needs and limitations.  You have strengths and weaknesses and with an awareness of both, you can be kinder and gentler with yourself.  If you take care of yourself and your own well-being, you are modeling an important value for your children, as well.
*     *     *
Rosalind Sedacca, CCT is a Divorce & Parenting Coach and author of How Do I Tell the Kids about the Divorce? A Create-a-Storybook Guide to Preparing Your Children — with Love! For her free ebook on Post-Divorce Parenting, free articles, blog and valuable resources on divorce and parenting issues go to: www.childcentereddivorce.com.
© Rosalind Sedacca, CCT All Rights Reserved
By Rosalind Sedacca, CCT
Michael Matracci, Esq. is one of the "good guy" collaborative divorce attorneys who avidly supports the concept and principles of Child-Centered Divorce. He is the author of an excellent book, Fighting Over the Kids: Resolving Day-to-Day Custody Conflict in Divorce Situations, which can be found at his website at www.divorcewithoutdishonor.com.
Recently I interviewed Michael, who is a divorced parent himself. He shared with me a valuable technique he uses when dealing with parenting issues with his former spouse. I loved the concept and am passing it along to other parents who face continuous challenges, month after month, year after year, as they raise their children following a divorce.
Michael asks himself three basic questions that get to the heart of what a child-centered divorce is about: doing the very best for your children. When a parenting issue arises that he and his former spouse have to face, before he takes any action he first answers these questions:
If we were two "normal" married parents, what would I do?
If we were still married, would this issue really be a big deal?
Is this about our child – or more about ME and HER/HIM?
These questions put you in the right perspective for taking wise and effective action. They help you to detach from the emotional "drama" of your divorce. Have you been caught up in your "story" about being a victim, abused, hurt, angry, jealous or exploited by your former spouse? By questioning your motives you can remind yourself that parenting issues are not about YOU; they are about what's in the best interest of the children you love.
That can mean sacrificing some ego gratification, biting your tongue when you want to be sarcastic, being more tolerant of an ex who sees things differently regarding discipline, rules and other parenting choices. At the same time, it can also bring you into closer alignment with your children's other parent which will help you to determine the best outcomes for your children together as their parents.
Most important of all, these questions will remind you that when it comes to parenting decision, always take the high road. Be the "mature" parent who puts their children's needs first. That's always the answer you are looking for – and one that you will never regret.
*     *     *
For other free articles on Child-Centered Divorce, a free ezine, valuable resources for parents, coaching and other services, visit http://www.childcentereddivorce.com. Rosalind Sedacca, CCT is founder of the Child-Centered Divorce Network and author of the new ebook, How Do I Tell the Kids … about the Divorce? A Create-a-Storybook Guide to Preparing Your Children — with Love!
© Rosalind Sedacca   All Rights Reserved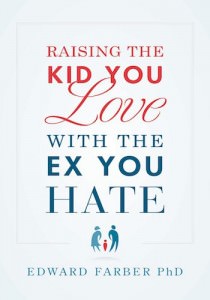 Clinical child-psychologist Edward Farber, PhD wrote a powerful new book with a compelling title, Raising the Kid You Love with the Ex You Hate. That's the formidable challenge … and that's just what Dr. Farber's no-nonsense advice helps parents do following a divorce.
The book discusses the complexities of co-parenting as well as why your child will benefit from the efforts you make in that direction. He addresses the important subject of how, what and what not to tell your children about the divorce and about related family issues once the co-parenting process has begun.
Extremely important is his discussion of the nitty-gritty day-to-day realities of shared parenting when the divorce is behind you. He covers how to cope with the adjustments, handle school-related issues, health, discipline and the multitude of decisions that need to be made while raising any children.
Holidays and special occasions get additional attention because they are often the source of conflict which can be avoided by planning and skilled communication. So Dr. Farber spends a good deal of time focused on ways to communicate more effectively with your former spouse on behalf of everyone in the family.
Children acting out and other behavior problems following divorce are also addressed with keen insight on how kids can coerce, control or manipulate parents when they know they have the power. And Dr. Farber provides valuable advice about when co-parenting is not in the best interest of your family or when it's time to bring in professional support for issues too big to handle by yourself.
Dr. Farber shares compelling real stories based on his years of practice followed by strategies and solid advice for overcoming obstacles and facing challenges realistically. Parents who read and take to heart the messages in his book will find the path to co-parenting success will not be as treacherous as they might have expected. I will happily recommend this guide to my own coaching clients as well as all those participating in the Child-Centered Divorce Network for parents.
***     ***     ***
Rosalind Sedacca, Founder of the Child-Centered Divorce Network, is the author of How Do I Tell the Kids about the Divorce? A Create-a-Storybook Guide to Preparing Your Children – with Love!  To learn more about the ebook, visit http://www.howdoitellthekids.com. For her free ebook on Post-Divorce Parenting, free ezine, coaching services and other valuable resources for parents, visit: www.childcentereddivorce.com.
By Rosalind Sedacca, CCT
Parenting plans are becoming more and more recognized as the way for both parents to coordinate their parenting, their lives and their relationship with their children after divorce.
In its simplest form a parenting plan puts in writing the agreed upon schedule both parents have created regarding most all parenting arrangements. It outlines the days, times and other details of when, where and how each parent will be with the children along with other agreements both parents will follow in the months and years to come.
The purpose of the plans is to determine strategies that are in the children's best interest to create smooth, easy and positive transitions. These plans encourage cooperative co-parenting so that the children feel secure, loved, wanted and nurtured by both of their parents.
Plans can vary in depth and scope. Often they include guidelines for routine residential arrangements as well as special occasions, including holidays, birthday and vacation time. Emergency information, decision-making guidelines, processes for sharing information, relocation procedures and means for resolving disputes can also be spelled out to minimize future conflict and provide consistency for the children.
While parenting plans make excellent tools for the family, keep them flexible so that their purpose doesn't get lost in a maze of too rigid rules. Allow for some fluctuation and reassessments as the family ages and also experiences the day-to-day realities of their living arrangements.
No plan can compensate for irresponsible or negligent parenting. Make sure the time you spend with your children is rewarding for them and reinforces the caring, supportive messages you want your children to remember. Don't try to substitute gifts or excursions for the quality parenting time they value and crave.
Parenting after divorce is all about reassurance, safety and security. Allow your children an adjustment period at the beginning and end of visits as they transition from one home to the other. This is not easy to do for adults. Think of what it must be like for children – regardless of their age.
Be sensitive about how and when to introduce your children to your new adult friends, especially dating partners. Children are very possessive of both parents. They need to feel very secure in your love for them before they can accept another parent figure in their lives. Take your time in this regard. Think before you take steps you will regret.
Whenever possible create a sense of consistency between both homes. Children fare best when Mom and Dad agree on basic parenting issues and don't contradict one another from home to home. If you do have differing rules, talk to your children about the differences, explain your own parenting style, and don't put down their other parent – even if you don't agree with their values. Your children will learn to adapt to differences in their parents if you don't make a big deal about those issues.
Never forget that you will be a parent to your children for the rest of your life – and so will their other parent. Keep that perspective and focus on ways to collaborate and join forces whenever possible. Your children will be the winners in the long term.
*     *     *
Rosalind Sedacca, CCT, is a Divorce & Parenting Coach, relationship seminar facilitator and author of How Do I Tell the Kids about the Divorce? A Create-a-Storybook Guide to Preparing Your Children — with Love! For free articles, an ezine and other valuable resources about Child-Centered Divorce visit http://www.childcentereddivorce.com. To order her acclaimed ebook, visit http://www.howdoitellthekids.com.