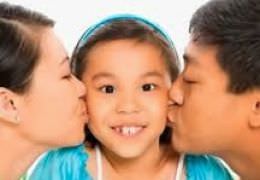 By Rosalind Sedacca, CDC
One million American children experience divorce each year. All of their parents face the same heart-wrenching dilemma … "How do I tell the kids?"
If you're facing the challenges of telling your kids about a divorce or separation, take heart. Now there's an easier, more effective way to do it right. Acclaimed by therapists, attorneys, mediators, educators and other professionals around the world, How Do I Tell the Kids About the Divorce? A Create-a-Storybook Guide to Preparing Your Children — With Love! is a unique guidebook that doesn't just tell parents what to say. It says it for you!
Getting both parents in alignment for the sake of the kids!
Rosalind Sedacca's Create-a-Storybook concept guides you in creating a special storybook. It uses your family photos, along with her customizable fill-in-the-blank templates written in age-appropriate language (for ages 5-15). It's a unique and proven approach unlike anything else available. And it helps to keep both parents on the same page. Together they learn to focus on what really matters most for the family. And that's the emotional and psychological needs of their children before, during and long after the divorce.
Commentary from six professional therapists contribute additional value and insights for parents. The text provides six key messages that all children need to hear and understand. It also puts you on the right track for reaping the long-term benefits of creating a child-centered divorce. That includes more effective and harmonious co-parenting following the divorce. It also supports creating less conflict and discord between parents. And that generates happier children growing up and enjoying their childhood.   
Based on Rosalind Sedacca's own divorce and co-parenting experience!
The guidebook is based on Rosalind's personal experience with her own son, now grown, who wrote the poignant Foreword. The result is a personalized family storybook that becomes a script for parents that helps pave the way through the dreaded "divorce talk." Equally important, your children can read it again and again in the days and weeks that follow.
The tone and message remind children that they are safe, cared about and loved. It reassures them that their family is still a family – despite taking a different form. And it looks ahead to two caring parents working toward creating a brighter future.
This downloadable ebook is easy to read and use. It provides wisdom as well as support and compassion. Most important of all, it works.
Bonus free Coaching Session with each ebook purchase!
In addition, the ebook comes with several valuable bonuses to further help with the divorce transition in your family. Most significant is a complimentary coaching session with author Rosalind Sedacca herself.
To learn more about How Do I Tell the Kids about the Divorce? A Create-a-Storybook Guide to Preparing Your Children With Love! visit: www.childcentereddivorce.com/kids.
***     ***     ***
Rosalind Sedacca is a Divorce & Parenting Coach, Founder of the Child-Centered Divorce Network and author of How Do I Tell the Kids about the Divorce? A Create-a-Storybook Guide to Preparing Your Children – With Love!  For her free ebook on Post-Divorce Parenting, and more information about Rosalind's coaching services and other valuable resources for parents, visit: www.childcentereddivorce.com.