By Rosalind Sedacca, CDC
Moving through a divorce can seem like an insurmountable obstacle. But for parents, it is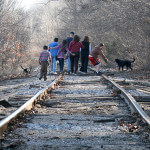 just the beginning of an even greater challenge: co-parenting your children together.
As founder of the Child-Centered Divorce Network I acknowledge all parents who have chosen to remain in your children's lives as co-parents. You care deeply about your children and cooperative co-parenting is the way to raise them in the least-disruptive possible manner.
The key word here is COOPERATION.
Not all parents can share the parenting process in this way. For some couples, sadly, it should not even be attempted.
Which is why those couples who are determined to co-parent – and choose to live relatively close to one another so as not to disturb the school, sports and other related schedules of their children – certainly deserve credit and acknowledgement.
This is a complex topic that can't be glossed over with a few simple how-tos. It is based on sincere levels of communication and a sense of trust between the former spouses. It is the path that I chose when I separated from my husband and we successfully mastered the ups and downs over the years without too much conflict and confusion. In fact, when my son, who was eleven when we first split, was with his father, I had a sense of peace and relief. I knew he was with the one person in the world that I most trusted to lovingly parent him so I could relax and enjoy my time off from parenting without anxiety.
That peace-of-mind is a major advantage to choosing the co-parenting route. Your children enjoy the security and comfort of being with their other parent when they are not with you. You are less dependent on strangers as caretakers in their lives, which is a win-win all around.
Co-parenting will be successful if both parents agree that they love their child more than anything else that may affect the co-parenting process moving forward. That means they are committed to resolving conflicts of any nature with the child's best interest at heart. When there is disagreement about how to make that happen, co-parents reach out for help. This can come from a coaching call from a Divorce & Parenting Coach, scheduling time with a therapist or child-psychologist, talking to a school Guidance Counselor or other parenting expert to get advice, suggestions or strategies for creating a win-win outcome.
Remember, co-parenting is a life-long endeavor. You will both be parenting your child even when they are grown adults with their own children. So think long-term.
Here are some co-parenting success strategies to keep in mind …
Create workable agreements you both commit to following long after the divorce.
Be flexible with your plans.
Cooperate and do one another favors when asked. You'll both need them!
Choose your battles wisely to minimize conflict. Agree to disagree when needed.
Use a co-parenting scheduling tool such as Moietyapp.com to ensure all plans, activities and decisions are written in one place.
Bring in an objective third party when discussing topics that are complex, confusing or challenging to help find resolution.
Spend family time together now and then for special occasions if your children appreciate those experiences.
Don't make your children your confidants, spies or messengers.
Compliment, acknowledge or recognize your co-parent when they do something positive toward the co-parenting experience.
Be tactful, precise and respectful when discussing negative issues or requesting your co-parent to change their behavior.
Put yourself in your child's shoes to understand what they are experiencing as a child of divorce – and make life as consistent, rewarding and stress-free as possible for them day after day.
Co-parenting is more of an art than a science. Find your way together. Create agreements that work for you, regardless of whether other families are doing the same. Put your kids' needs first before making any co-parenting decisions.
Ask yourself this big question and keep it in mind daily as you move through the co-parenting experience.
What will our kids say about the way we handled the divorce when they are grown adults? 
That time will come. Plan for it now!
***       ***       ***
Rosalind Sedacca, CDC is a Divorce & Parenting Coach, recognized as The Voice of Child-Centered Divorce. She is the founder of the Child-Centered Divorce Network, which provides valuable resources for parents who are facing, moving through or transitioning after a divorce. She is also the author of How Do I Tell the Kids about the Divorce? A Create-a-Storybook Guide to Preparing Your Children – with Love! For Rosalind's FREE ebook on Post-Divorce Parenting, and other valuable resource on divorce and parenting issues, visit: www.childcentereddivorce.com.